Microorganism Identification
Microorganism Identification
This is a simplified service of bacteria identification based on top 500bp sequence of 16S rDNA from bacteria sample using "MicroSeq® Kit" by Applied Biosystems.
* As for full length analysis of 16S rDNA or fungus (mold, yeast) identification, please ask separately.
Product Description
DNA will be extracted from provided bacteria sample, then 16S rDNA Top500 region will be amplified by PCR. The obtained PCR product will be sequenced by direct sequence method and confirmed its identification with 16S rDNA sequences of known microorganisms by BLAST search on database. The list of microorganisms that are deduced as related species will be reported.
 Basic Content 
– DNA Extraction from bacteria
– Gene amplification of 16S rDNA Top500bp region
– Sequencing analysis (double strands)
– BLAST search on base sequence database
– Result report
Reagents:
DNA extraction: PrepMan(TM) Ultra Sample Preparation Reagent
PCR amplification: MicroSeq® 500 16S rDNA PCR Kit
Sequencing: MicroSeq® 500 16S rDNA Sequencing Kit
Equipment:
3730xl DNA Analyzer
3130xl Genetic Analyzer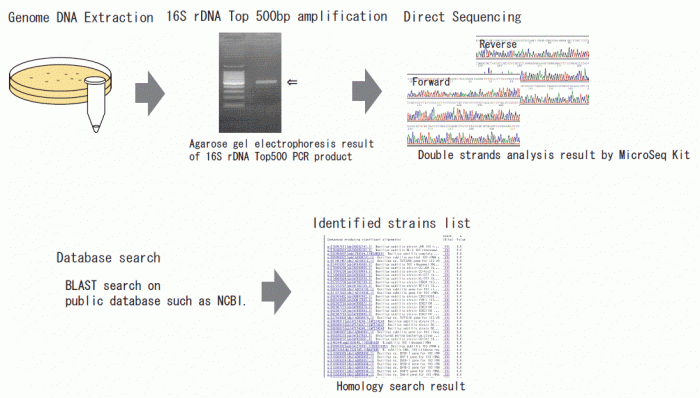 Deliverable
The report is to be sent via e-mail.
Deliverables
– Analysis report (identification result) (PDF file)
– Sequencing data:
base sequence data (Text file)
waveform data (Ab1 file)
contig data (Text file)
* Please inquire if you require Raw Data (ab1 file).
* Preliminary consultation on report delivery may be required for large numbers of Data.
Price & Domestic Order Lead-time
| | | |
| --- | --- | --- |
| Service Description | Price (tax exclusive) | Domestic Order Lead-time |
| Microorganism Identification | 42,000 JPY / sample | 2 weeks or longer after the sample arrival |
* Depending on sample quantity or analysis conditions, it may take longer for delivery. For the order of large quantity samples, please inquire separately.
How to order
Please inquire for details.
Please provide:
Sample
Cultured sample in slant, petri dish or other.*1
Extracted DNA which is purified enough for PCR.*2
*1 We do not isolate samples. Please send the purely cultured strain.
*2 We do not accept microorganisms, which do or may possess pathogenicity. In that case, please submit the sample in the form of extracted DNA.
* The provided samples are destroyed after the analysis completion. If the sample should be returned, please ask us in advance.
Cautions
– We use a bacterial identification kit for this service, which is not suitable for identification of fungus samples such as yeast and mold. For the identification of fungus, please inquire.
– The kit we use for this service might not be suitable for some types of bacteria. Please note that the identification would be quite difficult in that case.
When we determine the further analysis performance is not available by this reason, the analysis will be stopped and actual expense of 7,000 JPY/sample will be charged. Thank you for your understanding.
– Please be noted that even when the provided sample was incompletely isolated and caused difficulty in sequencing, it will be charged in full.
– Samples are limited to the P1 level defined in "the Law concerning the Conservation and Sustainable Use of Biological Diversity through Regulations on the Use of Living Modified Organisms" (Cartagena Protocol) issued by Ministry of Education, Culture, Sports, Science and Technology.
– Please note that we do not accept microorganisms, which do or may possess pathogenicity. In that case, please submit the sample in the form of extracted DNA.
Back to "Products & Services"