Agilent miRNA Microarray Analysis
Agilent miRNA Microarray Analysis
This is a service using Agilent Technologies' microarray with innovatively designed probes and offers microarray data which detect 470 kinds of Human mature miRNAs registered in miRbase Release 9.1 database.
Service Description
– Mature miRNA can be selectively detected.
– No extra works such as small RNA clean-up are required as miRNA in total RNA will be labelled directly.
– Optional services such as RNA extraction and data mining are also available.
* Probe sequences is available by e-Array registration.
Please inquire how to obtain the information.
For detailed information about Agilent microarray, please inquire to Agilent Technologies from the below links. (Links to external websites)

For product information, click here.
For gene list, click here.
Analysis Process Flow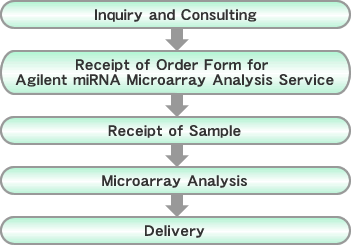 Necessary sample
type of Sample
Required Amount
Purity and Conditions
Total RNA*1
Total amount: 500ng or more*2
Concentration: 50ng/uL or more
Liquid amount: 10uL or more
OD260/OD280: 1.8 – 2.1*3
OD260/OD230: 2.0 or more*3
Sample is to be diluted in nuclease free water.*4
For RNA extraction service order, please inquire.
*1 HSS recommends to use QIAGEN miRNeasy Mini Kit for RNA extraction and RNase-Free
DNase Set for DNase treatment.
*2 Required sample amount for microarray analysis is 100ng for general cellular total RNA.
For details, please inquire.
*3 For samples extracted by spin-column method or of low concentration, OD ratio may not be
taken into consideration.
For details, please inquire.
*4 DEPC water may inhibit reactions. Please make sure to dissolve RNA to Nuclease Free water.
Deliverables
Basic deliverables for this service are as follows;
– Analysis report (document and PDF form)
– Analysis data (Excel form)
* One file is to be generated for each comparison.
* A scatter plot and a list of differentially expressed genes are available for each comparison.
* File is provided in Excel format. (No special software is required.)
– Slide scanning image (TIFF and BMP form)
– Raw data (TXT form)
– RNA QC result (PDF form)
– Protocol (PDF form)
– Commentary document (PDF form)
* Data will be delivered in a CD-R. Encryption available on request.
«For Reference »
Encryption algorithm "Rijndael", which is selected as AES (Advanced Encryption Standard) by National Institute of Standards and Technology (NIST) on October 2000, is applied to our service. This is a proven algorithm with 256 bits block and key length, used widely not only in US but in Japan.
Price and Domestic Lead-time
(Tax exclusive)
Service
Price
Domestic Lead-Time*2
Agilent
miRNA microarray analysis*1
Open price
3 weeks after meeting the below requirements;
– Analysis slide delivered
– Sample QC passed
Scanning & Digitalization
approx. 1 week
Options for Scanning & Digitalization Service
Normalization
approx. 1 week
Data Processing
(making the data available for analysis)
* Normalization price inclusive
*1 Sample QC fee (twice incl. sample reshipment) is included in the price.
*2 The lead-time may vary according to each order specifications such as the number of analyses.
Description and scope of the service are subject to changes without notice.
Ordering (Domestic)
Please fill the order form and send it to the address below. We will let you know necessary information such as how to send your samples on the receipt of your order form.
Click here for download of order form for Agilent microarray analysis service.
Our address:
Attn. Microarray Team
Hokkaido System Science Co., Ltd.
1-2-1, Shinkawa Nishi 2-jo, Kita-ku, Sapporo-shi
Hokkaido,001-0932
Japan
e-mail: array@hssnet.co.jp
Cautions
Description and scope of the service are subject to changes without notice.
Lead time is calculated from the first day HSS starts to work on the target sample.
Cancellation of an order will be rejected if received after production start. If cancellation is due to force majeure, the client will be asked to pay the service up to the cancellation point.
Samples are limited to the P1 level defined in "the Law concerning the Conservation and Sustainable Use of Biological Diversity through Regulations on the Use of Living Modified Organisms" (Cartagena Protocol) issued by Ministry of Education, Culture, Sports, Science and Technology.
Infective samples such as HCV or HBV are not acceptable.
In case of using human clinical sample, please confirm if the informed consent is obtained.
The result of this custom analysis service should be used for the purpose of investigation. The result should not be used for purposes such as production/quality control of a medical product or food, diagnosis, etc.
HSS will not be responsible for losses a client may incur as a result of the custom analysis service output.
HSS will not be responsible for troubles related to industrial property rights or safety whose origin is in the sample submitted by a client or the methods used.
Should an Agilent array analysis service be discontinued, the client will be asked to pay the service up to the discontinuation point, including the RNA quality controls if applicable.
When delivering the sample, please make sure that the sample is frozen and is packed with enough Dry Ice. Use refrigerated courier service.
Please make sure that your package will be delivered on working days. Thank you for your understanding.
HSS will not be responsible for any trouble that may occur during transportation.
Remnants of sample will not be returned. Please dispense and send the necessary volume.
Sample is to be diluted in nuclease free water. HSS recommends Nuclease free water sold by Invitrogen Corporation.
DEPC treated water may inhibit enzymatic reaction. Please dissolve total RNA in nuclease free water.
Please make sure that the sample RNA is not fragmented by using electrophoresis.
Please inquire when the quantity of sample is less than the requirement above.
Analysis might be suspended or new sample requested if the RNA sample shows fragmentation. (Re-sent sample will be quality controlled for free.) Thank you for your understanding.
If an RNA sample is rejected as a result of the quality control for acceptance, the second quality control to be performed on the re-submitted sample, will be at no charge. However, please be aware that the RNA quality control will be charged from the third time onward.
Back to "Products & Services"