Agilent Array Analysis
We are qualified as a "Certified Service Provider" by Agilent Technologies.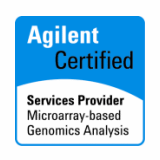 "Certified Service Provider" is a provider which completed the strict training to obtain the maximum quality, reliability and reproducibility of the data from Agilent microarray. We offer a high quality service of Agilent microarray analysis for our valued customers.
This is a service based on the Agilent Technologies' microarray and offers an exhaustive analysis with highly accurate data output.
A total solution service, where the client only needs to submit the RNA sample, is available on request. This includes amplification of RNA, labeling, and digitalization.
Description
– The minimum amount of total RNA required for analysis is 10ng for 8x format.
– IncRNA probe is also mounted on Human and Mouse array.
– Species without catalogue array can be analyzed by designing a custom array.
– Optional services such as array design, RNA extraction and data mining are available.
* Probe sequences is available by e-Array registration.
Please inquire how to obtain the information.
For detailed information about Agilent microarray, please inquire to Agilent Technologies from the below links. (Links to external websites)

For product information, click here.
For gene list, click here.
Analysis Process Flow
Scope of the Service
RNA Extraction / Purification *Option
---
Optional service to extract/purify RNA from a tissue or a cell is available QIAGEN RNeasy Mini Kit is used for this service.
Special price will be applied for orders together with microarray analysis.
Sample Quality Check
---
Prior to analysis, samples are subject to quality check using NanoDrop (Thermo Fisher Scientific) and Bioanalyzer (Agilent Technologies). The result is to be reported to all customers.
– QC result passes our criteria.
-> Microarray analysis will be proceeded upon customer's approval.
– QC result does not pass our criteria.
-> Discussion about the later process (sample re-shipment, purification service etc.)
will be required.
* QC will be performed at free of charge up to double numbers of sample to be analyzed.
Additional fee will be charged for the more QC.
DNA Microarray Analysis
---
Please select the plan (normal or slide share) and the method (1 color or 2 colors) for your analysis according to your research purpose.
Plan Description
– Normal Plan
Analysis service available per slide.
Turnaround will be provided soon after the sample passes QC and an ordered microarray is delivered to HSS.
For make-to-order microarray, please send your order form prior to shipping your sample so that we can order microarray slide first, which enables the smooth analysis process.
Please mind that the actual expense will be required for any cancellation after ordering a slide.
– Slide Share Plan
This plan is only available for the below microarray types;
SurePrint G3 Human 8x60K v3
SurePrint G3 Mouse 8x60K v2
Reasonable plan to share one slide (8 arrays) with several customers. Good for those who plan the experiment and data acquisition with small numbers of sample.
Turnaround will be confirmed once the required number of samples are collected, so is not fixed at the time of order.
It may take time to collect the required number of samples, but even so, the result is to be delivered within 3 months at the longest after the sample passes QC.
Scanning and Digitalization
---
Service also available only for scanning and digitalization.
Please inquire for detail.
Deliverables
---
< Basic deliverables>
– Analysis report (document and PDF form)
– Analysis data (Excel form)
* One file is to be generate for each comparison.
* A scatter plot and a list of differentially expressed genes are available for each comparison.
* File is provided in Excel format. (No special software is required.)
– Slide scanning image (TIFF and BMP form)
– Raw data (TXT form)
– RNA QC result (PDF form)
– Protocol (PDF form)
– Commentary document (PDF form)
* Data will be stored at HSS for 6 months after the delivery.
Data may be required to be sent when you inquire about the delivered analysis or order additional analyses after this storage period. So please keep the delivered data carefully.
Data Mining *Option
---
Several data mining services are optionally available.
Special price is applied for orders together with microarray analysis.
Please inquire for details.
Price and Domestic Lead-Time
(Tax exclusive)
Service
Price
Domestic Lead-time*2
Agilent Gene
Expression
Microarray
Analysis*1
1 color
(Shared plan)*3
Open price
3 weeks (up to 3 months) after
meeting the below requirements;
– Sample QC passed
– Number of samples required for
the share plan
2 colors
(Shared plan)*3
1 color
(Normal Plan)
3 weeks after meeting the below
requirements;
– Analysis slide delivered
– Sample QC passed
2 colors
(Normal Plan)
Scanning and Digitalization
approx. 1 week
Option for Scanning
and
Digitalization
Normalization
approx. 1 week
Data processing
(analysis data generation)
* includes normalization
*1 Sample QC (twice incl. sample reshipment) is included in the price.
*2 Lead-time will differ depend on each order (No. of analysis).
*3 Shared plan is only available for analyses with "SurePrint G3 Human 8x60K v3" or
"SurePrint G3 Mouse 8x60K v2".
Description and price of the service are subject to changes without notice.
Ordering (Domestic)
Please fill the order form and send it to the address below.
We will let you know necessary information such as how to send your samples on the receipt of your order form.
Please send your order form to:
e-mail:array@hssnet.co.jp
Please ship your samples to:
Attn. Microarray Team
Analysis Department,
Hokkaido System Science Co., Ltd.
2-1, Shinkawa Nishi 2-1, Kita-ku, Sapporo
001-0932, Japan
Tel: +81-11-768-5903 Fax: +81-11-768-5951
Necessary sample
Type of Sample
Required Amount
Purity and Conditions
Total RNA*1
Total amount:500ng or more*2
Concentration:50ng/µL or more
Volume: 10uL or more
OD260/OD280: 1.8~2.1*3
OD260/OD230: 2.0 or more*3
Please dilute in Nuclease Free water.*4
For RNA extraction service order, please inquire.
*1 HSS recommends RNA extraction using RNeasy Mini Kit (QIAGEN) and DNase treatment using RNase-Free DNase Set (QIAGEN).
*2 Required sample amount may differ depend on the array format. For the minimum amount per each format, please inquire.
*3 For samples extracted by spin-column method or of low concentration, OD ratio may not be taken into consideration.
For details, please inquire.
*4 DEPC water may inhibit reactions. Please make sure to dissolve RNA to Nuclease Free water.
How to ship your sample
---
RNA sample (for gene expression array analysis service)
To prevent a sample tube from breakage, please put it in another container such as 50mL tube or tube box and pack it together with a printed order sheet and approx. 5kg of dry ice to dispatch under refrigerated or frozen state.
Slide glass (for scanning and digitalization service)
Please use a slide case, wrap it in aluminum foil to block the light, protect it with cushioning material to prevent it from breakage, and pack it with a printed order sheet to dispatch at room temperature (no refrigeration or dry ice required).
* For any sample/slide glass shipping, please let us know the below information by e-mail.
1. delivery schedule 2. courier 3. tracking number
* Please make sure that your package will be delivered to us on working days.
* Remnants of samples will be stored for three months for RNA samples and one week for slide glasses, then be discarded.
* If sample return is required, please describe so on your order form at the order placement.
* Please note that samples are returned free of shipping charge only when they are
returned with data delivery.
Cautions
*Description and scope of the service are subject to changes without notice.
*Cancellation of an order will be rejected after production start. If cancellation is due to force majeure, the client will be asked to pay the service up to the cancellation point.
*Samples are limited to the P1 level defined in "the Law concerning the Conservation and Sustainable Use of Biological Diversity through Regulations on the Use of Living Modified Organisms" (Cartagena Protocol) issued by Ministry of Education, Culture, Sports, Science and Technology.
*Infective samples such as HCV or HIV are not acceptable. In case of using human clinical sample, please confirm if the informed consent is obtained.
*The result of this custom analysis service should be used for the purpose of investigation.
The result should not be used for purposes such as production/quality control of a medical product or food, diagnosis, etc.
*HSS will not be responsible for losses a client may incur as a result of the custom analysis service output.
*HSS will not be responsible for troubles related to industrial property rights or safety whose origin is in the sample submitted by a client or the methods used.
Back to "Products & Services"